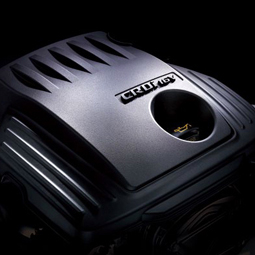 A2 2.5 CRDi (WGT)
Fuel Type : Diesel
Displacement : 2,497cc
Max. Power : 136ps / 3,800rpm
Max. Torque : 35.0kg·m / 1,500~2,500rpm

Performance with efficiency. What every car seeks. Well, the quest has ended, as the Tucson / ix35 combines both. Powering you along is a R2.0 regular diesel engine, or Theta II 2.4 or 2.0 MPi gasoline engine. Die-cast in aluminium, and featuring variable valve timing and a variable induction system. And so that nothing intrudes on the powerful, fluid motion delivered, vibration is minimised, there's hardly any noise when idling and accelerating, and reduced overall weight enhances fuel economy. Dynamic and forceful, yet quiet and effective. Strength is truly beautiful when it wastes nothing.