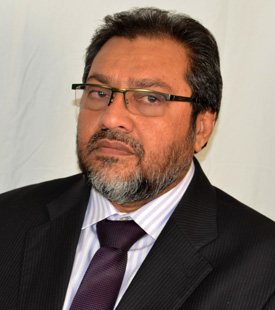 Chairman's Desk
HYUNDAI EAST AFRICA LIMITED was established in 1991. It belongs to the F.K. Group of Companies which was originally in Lindi, Tanzania when the first trading company was established way back in 1931.
Ever since, the group has expanded and diversified gaining vast experiences in various types of businesses including Trading, Import – Export business, processing and export of timber, fuel tyre distribution, auto rentals, electronics, long distance cargo haulage, motor trade and construction equipment business.
The Company diversified into construction and material handling equipment and focused on these two product lines thereby gaining vast dividends.
At present the Company is manned by highly professional key members of staff leading core functions of Sales and Marketing, Personnel and Administration , Parts and Service and Finance.
It has a good network of regional dealers growing in size and stature.
With the Tanzanian economy scoring a healthy GDP growth rate of around 7 % during the past 4 years, Hyundai vehicles sales have improved over the years.
Numerous Organizations have shown their patronage to Hyundai vehicles specially 4WD Station Wagons. Some Important Customers include: Presidents Office, Zanzibar Government, Ministry of Defence, Ministry of Infrastructure Development, Tanzania Broadcasting Corporation , BP Tanzania Limited, TPDF etc. The Company secured similar success where numerous Contractors involved in nation building projects have shown their patronage to our Range of Construction Equipment and Material Handling Equipments.
Good Quality, good price, financial facilitation and wide Product Range have been our strength. The Company is harder in order to serve better. With an exemplary past and dynamic present, Hyundai East Africa Limited marches ahead towards an optimistic future.
We are grateful to our principals Hyundai Motor Company and Hyundai Heavy Industries Company Limited, South Korea who are among the top global manufacturers of automobiles and construction equipment for their everlasting support and quality products.
Mohamed Karmali
Chairman